Figures of a rider on horseback are common in Senufo art, both among wood sculpture and brass-castings. They represent a bush spirit, mandeo (plural: mandebele), or tugu (plural: tugubele), on his steed, and were usually kept on a personal shrine or used as an aid by the diviner. Castings of this subject, though of grossly inferior quality, are still sold for traditional use in many Senufo village markets. They exist both in brass and aluminium.
The horse, though not native to the region, is an animal with which the Senufo have been familiar for centuries. It was associated with speed, swiftness, dignity and prestige, but also with violence and disorder, having been used in pre-colonial times by the warriors and slave-raiders who preyed on the Senufo. Its appearance as a mount for the bush spirits perhaps reflects their ambivalent nature as beings potentially good or harmful, who required to be placated and appeased.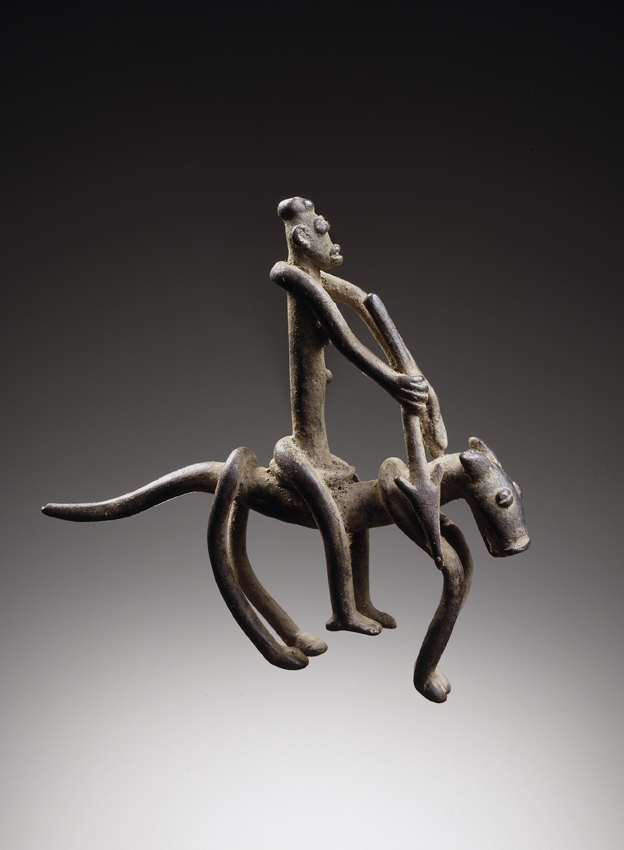 This object was published in the catalogue Art of Côte d'Ivoire, 1993, p. 41.